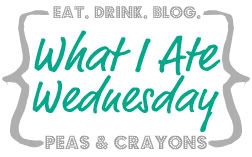 After I stumbled upon the large blogging foodie community, I realized I was missing out on a big "link party". What in the world is that? When I include the button above (WIAW) my blog is sent to the hostess's page so that all other foodies can click my link and see what I ate!
So here we go:(and it's nice to meet all you other foodies out there!)


I feel kind of weird letting everyone know what I had to eat in a full day, but I guess it's kind of interesting, right? You tell me.
Breakfast
I had an organic pink lady apple with a little pack of Justin's chocolate almond butter. I'm obsessed with Justin's. I brought this breakfast to work so it was nice to have the perfect amount of almond butter to smear on each bite of apple. Since I'm a chocoholic, I could get my fix in a much healthier way.
Lunch
My own mixed green summer salad.

Ingredients: Organic girl 1/2 mixed greens 1/2 spinach
organic red bell pepper
organic pink lady apple slices
feta
Somersault snacks sunflower seed clusters (told you I'd have them in a recipe!)
Cindy's balsamic vinaigrette
YUM. My salad was so delicious. I get really bored with the usual salad I make everyday, so making subtle changes make the biggest difference. I loved the crunch and a bit of saltiness the Somersault snacks gave the salad. I usually throw some walnuts in my salad, but this was much more exciting. And as far as salad dressing goes–Cindy's is out-of-this-world. I can only find it at Whole Foods. So if you're near a Whole Foods, definitely try it.
On the side of my salad, I indulged in a little Out For Lunch hummus and Stacy's pita chips. A match made in heaven.
Dinner
Lucky for me, my boyfriend's parents took us out to Shin Sei for dinner as an early birthday dinner for my boyfriend Ryan. Shin Sei is one of my favorite restaurants in Dallas. The food is phenomenal and the owners are the wives of two culinary geniuses– Dean Fearing (Fearing's) and Kent Rathbun (Abacus). Everytime I leave this place I'm extremely full but in the best way possible.
Last night we started out with some sushi rolls. The tempura spicy tuna roll was awesome. It was the perfect consistency and flavor–a very unique roll. Then, I had the traditional miso black cod. I've had it before and I knew it was melt-in-your-mouth good. As usual, the cod didn't let me down. YUM. Finally, we oredered the thai fried rice with farm fresh egg. They chop the egg into the rice and mix it right in front of you at your table. Mmmmmm so good!
Hope you enjoyed my very first WIAW post!
Original blog post found at www.thatfoodiegirl.com. Please be sure to become a fan of That Foodie Girl and follow @thatfoodiegrl on Twitter for more dining and food tips!
Bon appétit,
ThatFoodieGirl
Tags: That Foodie GIrl