Jeff Andrews with ESPN recapped the Allen Eagle game against Cedar Hill last Friday at at SMU's ford Stadium. Here is the story:
UNIVERSITY PARK, Texas – Allen is the consensus No. 1 team in the state entering the 2011 season.
The Eagles, No. 1 in the ESPNDallas.com 5A area rankings, showed why against No. 8 Cedar Hill in the Tom Landry Classic on Saturday.
Allen made short work of an extremely athletic Longhorn team, jumping out to an early lead and coasting to a 28-13 win at SMU's Ford Stadium.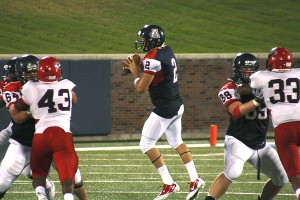 Travis L. Brown/ESPNDallas.com
"We did the stuff we worked on all week," said quarterback Alec Morris. "They came out and did exactly what we expected them to do and we exploited everything their defense had to offer."
(more…)